Product Management for Entrepreneurs
Free live program to learn the essential product management concepts to help you create successful products.

🔥 Over 10 hours of live learning sessions
The program is over, you can access all resources for free from here:
Get all Recordings and Resources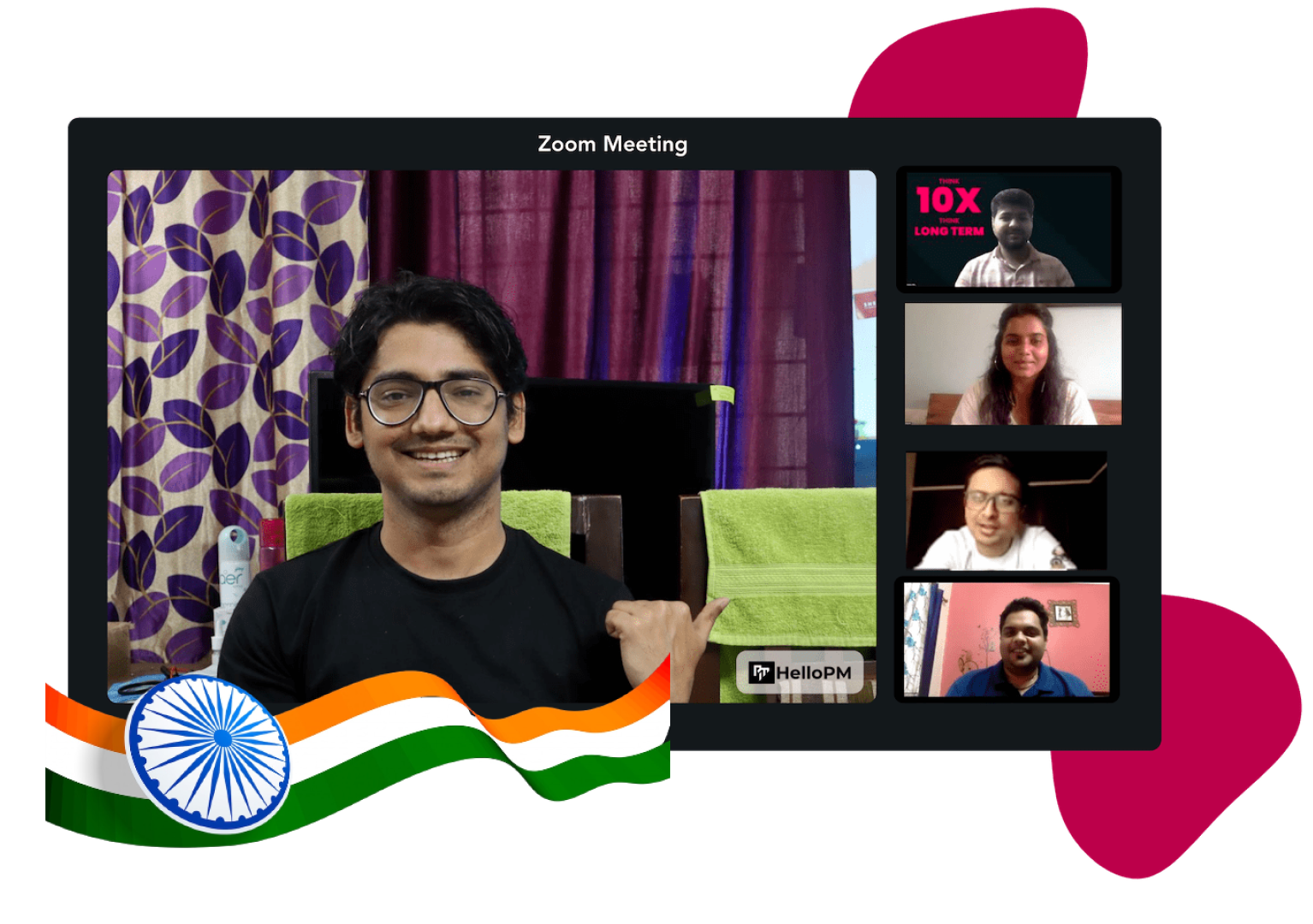 As India celebrates 🇮🇳 75 years of Independence we want to take a moment to celebrate Entrepreneurs: A prime foundation of our growth and prosperity.

To enable the next generation of entrepreneurs and help them solve the most important problems we are launching a special cohort at HelloPM: Super 75 - Product Management for Entrepreneurs.

Everyone who registers will get access to recordings, resources from the program and a live AMA.
Complete Live program will be available for shortlisted entrepreneurs.

In this program, entrepreneurs and founding members will learn concepts like Product led growth, product thinking, how to create product teams, and various mental models for decision making.

Why?
Product management skills could be very useful for entrepreneurs. Helping them create successful products and avoid failures.

What?
A 5 day live online Bootcamp to help entrepreneurs understand the fundamentals of Product Management.

How?
Case study-based curriculum, delivered by expert product managers in 90-minute live sessions, followed by discussions.

Who is it for?
- Early-stage entrepreneurs looking to build product-based companies from India.
- Members of founding teams, CXOs aiming to build products for people and business success.
Program Structure & Curriculum
🧤Introduction to Product Management
Intro to product thinking
Common reasons for product failures
Product market fit
Identifying user problems through Mom's test and jobs to be done
Reading & Cases: Growth stories from superhuman and hotjar
🌍The Product Management Process
What is product management?
6D product management process
How companies build products
The OKR framework
Tools for the PM department
Reading and cases: Product management process at Amazon, and Meesho
🛠Product Led Growth
Fundamentals of Product led growth
Network Effects
Virality
Referrals
Go to market strategy
Reading and cases: INDmoney, Groww, Morning Brew, and Figma
📚 Helpful PM frameworks
AARRR framework for quantifying user journey
HEART framework for understanding feature performance
North Star Metrics for company wide alignment
BJ Fogg's model for creating product habits
RICE for prioritising impactful quick wins
Eisenhower matrix for managing your resources
📦Building The Product Team
When to hire?
Whom to hire?
How to hire?
Setting up your team for success
Stakeholder management for product managers
🌦Ad-hoc networking sessions
Breakout rooms for group networking
BYOB sessions for 1:1 networking
Fees & charges:
The live program and all related resources will be offered 100% free to all the 75 selected candidates.

Important timelines:
1. Registrations begin on 15th Aug 2022.
2. Registrations close on 25th August 2022 (extended from 20th August).
3. Announcements of the final list of participants on 27th August 2022.
4. The program starts on 29th August 2022.
5. Session Timings: 8 PM to 10 PM (IST) from 29th August to 3rd September.
6. Final presentations: 9th September. (Details will be shared during the sessions)

Apply Now

About HelloPM:
HelloPM is an up-skilling platform for product managers. Our purpose is to create the next generation of product leaders who will create life-transforming products.
We offer product bootcamps, active community, and mentorship to aspiring and seasoned professionals.
Check out the recording of our free tech-101 Nov'21 cohort here.

Few organizations where our alumni are now working in product roles: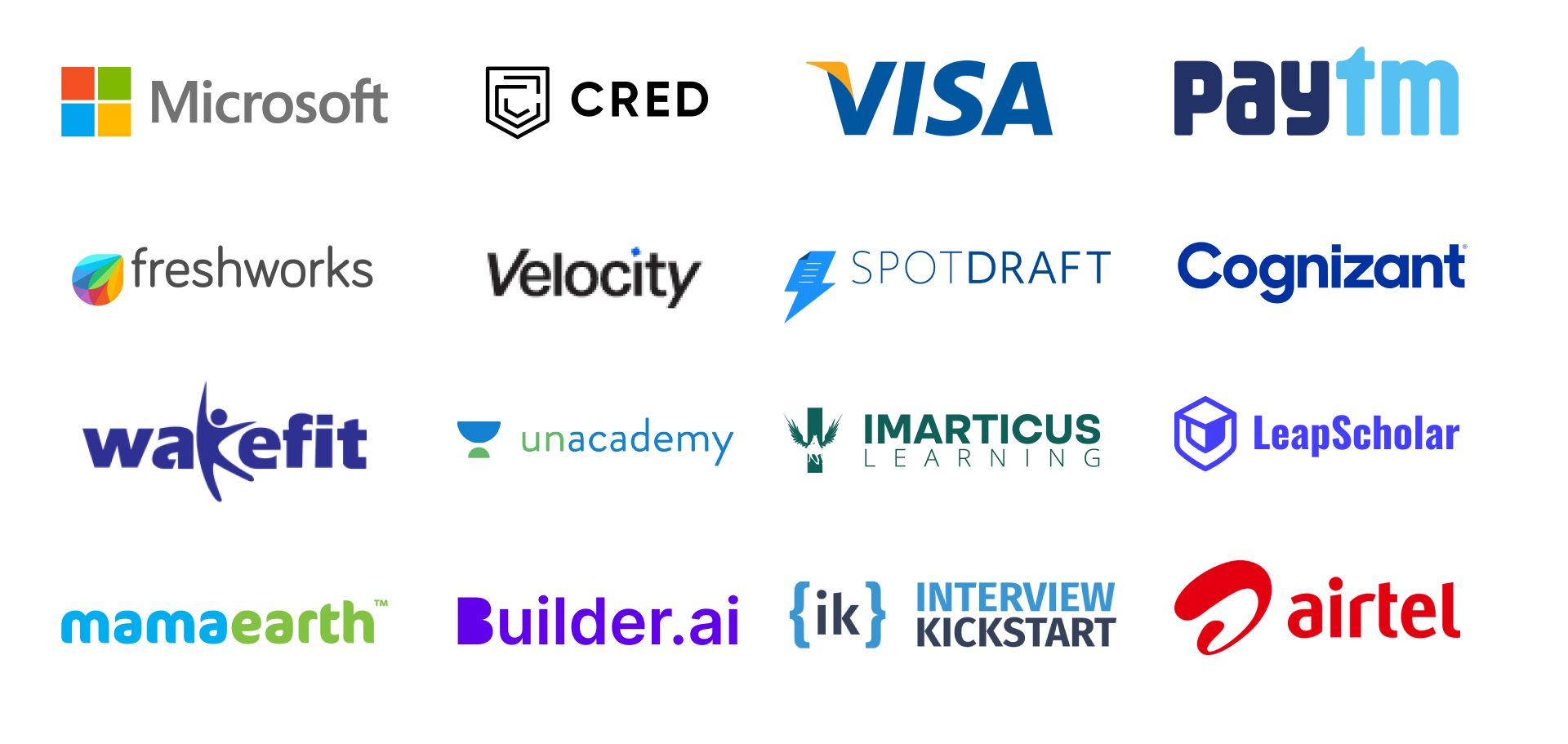 Guest Speakers:
Ashish Kashyap: Founder & CEO - INDmoney, Founder - GoIbibo, PayU.
Sairee Chahal: Founder & CEO - SHEROES, Board - Paytm Payments Bank.

Instructors & Mentors
Ankit Shukla: Senior Product Manager, InterviewBit & Scaler Academy. Ex-INDmoney, SHEROES
Gagan Mahajan: Group Product Manager, Meesho. Ex-BlinkIT, SHEROES
Naivedya Jain: Product Manager, Walmart Global Tech. Ex-PAYTM, INDmoney, Flyhomes, IVP
Sugat Nayak: Product Manager, LinkedIn. Ex-PayPal, AppKnox, Publicis Sapient
Vijay Kiran Varma: Principal Product Manager, Oracle. Ex-Turvo, BroadBridge