Learn Modern
Product Management
3 month intensive live program to accelerate your transition into product management.
13th Cohort Starting from 9 December
Apply Now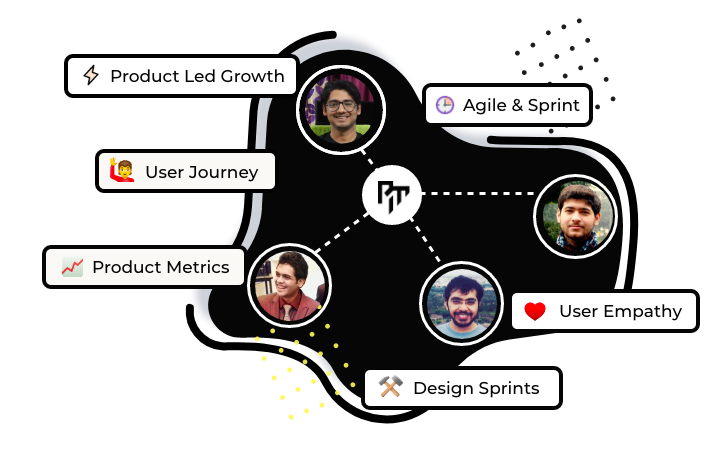 Our Alumni Works At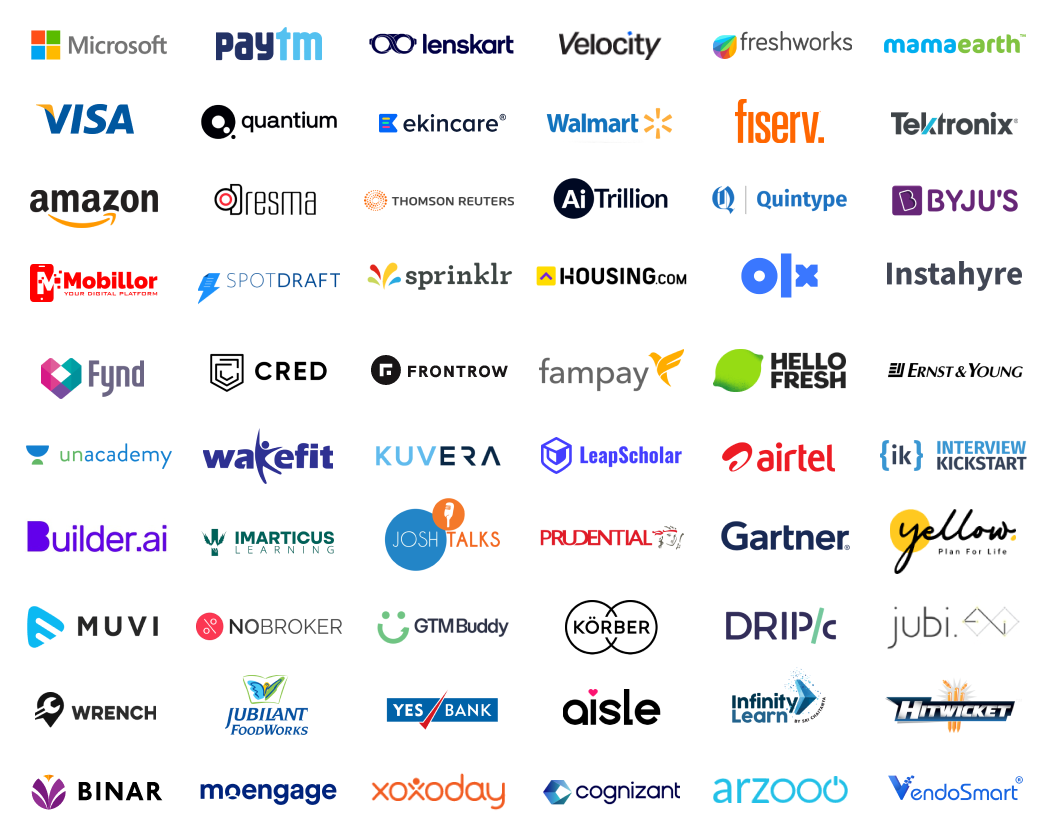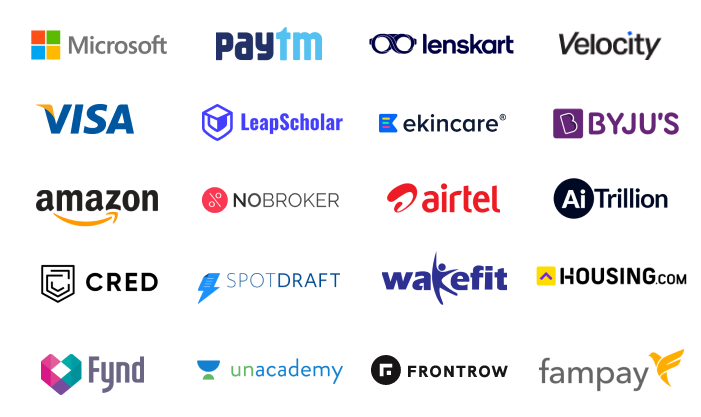 Learn the step by step method of creating, managing and growing successful products, directly from the leaders who have been there and done that.
The Program is best suited for
Professionals
looking to make a transition into product management roles from engineering, marketing, sales, design, operations, business analysts and finance backgrounds.
Entrepreneurs
looking to develop a product mindset for their own ventures to create successful products quicker while avoid deadly mistakes.
"Serious" Freshers
who are willing to work harder to learn the practical art of product management and growth, and get into product roles in tech companies.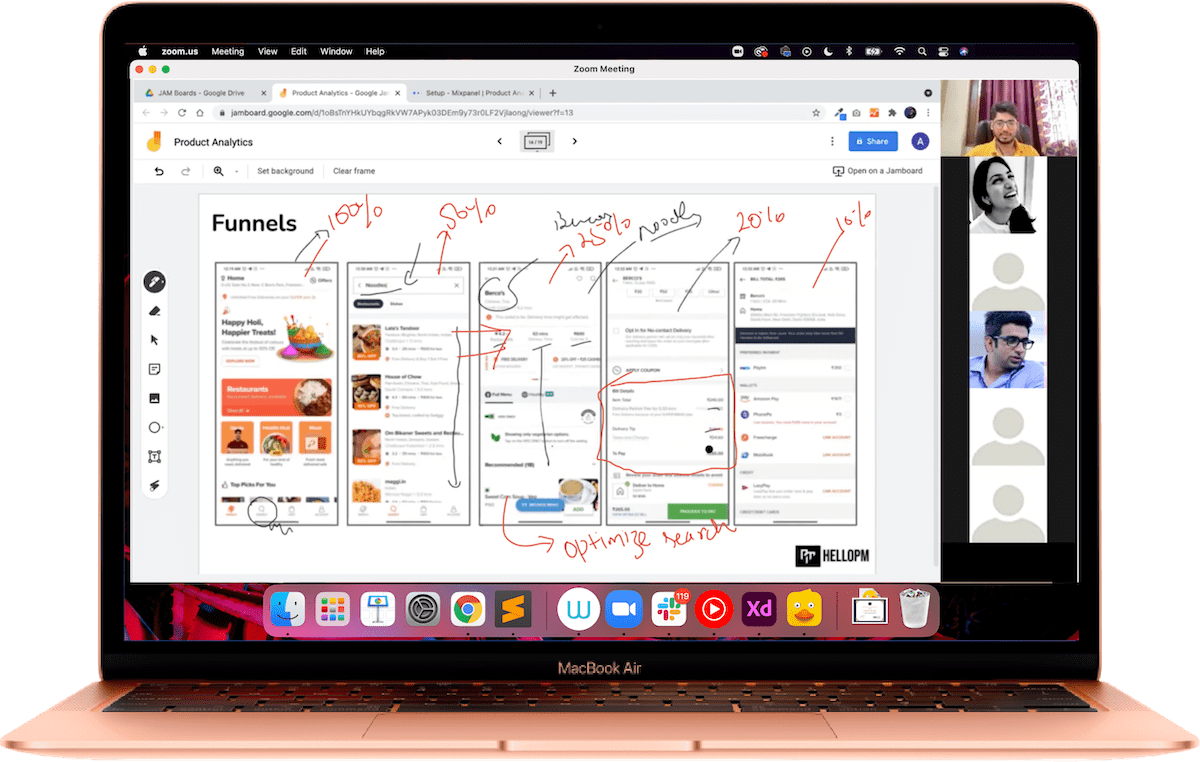 This is an active learning classroom program, for 10 weeks you will be having 2 live classes of 2 hours each saturday and sunday conducted over zoom (20 live-classes in total).
These sessions will be followed by 30 minutes of doubt and query session.

All the sessions will be hands-on and will be accompanied by related assignments. Instructors will use less of powerpoint and more of whiteboard and interactive tools during the session.

We have prepared real case studies from the best product companies out there. Our instructors have worked with some of the top products companies and bring lot of these useful examples from their own experiences. See curriculum to check the program case studies.

You get access to 2 peer to peer and 2 instructor led mock interviews to make youself feel confident about cracking the next interview. All mock interviews will come with an actionable feedback.

We have the most exhautive curriculum on product management and growth marketing - spanning across 11 weeks, 12 case studies, 6 immersive assignments & 1 capstone project.
We have designed our curriculum by researching through 100s of job postings and interviewing with over 50 product leaders from across the industries.
Curriculum & Tools
15 weeks of intensive learning in product management and growth. Learn the art of building and growing products that your users will love.
Week 1
Introduction to Product Management & Product Thinking
Learn about responsibilities and workflow for product roles in B2B v/s B2C, Startups v/s Enterprises. Common myths about product roles. Must have hard skills and soft skills for product management roles, how to learn and practice these. Important KRAs for product managers. Product thinking and how to develop product sense.
With examples & cases from

Week 2 and 3
User & Market Research - Discovery
Learn how to discover, validate and articulate user problems. Finding product opportunities with surveys, user interviews and secondary research. Converting this research into artifacts such as user personas, customer journey maps, and empathy maps. Using Jobs to be done framework to learn about user needs and required innovation. Competitive research, market analysis and porter's 5 forces to create a differentiated proposition.
With examples & cases from

Week 4, 5 & 6
Growth, User Acquisition & Product Marketing
Fundamentals of product led growth. How to solve growth and retention problems with product mindset. Examples of growth loops and how to create them. Utilitizing Network effects, Virality & Referrals for exponential growth. Frameworks and strategies to improve engagement and retention of any product. Deep dive into Product communication, Onboarding, AHA moments, Pricing Strategies etc. How to create a full funnel product mindset and collaborate with various cross-functional teams to improve metrics.
With examples & cases from

Week 7 & 8
Product roadmap & execution
Creating product roadmap, PRDs and user stories driven by OKRs and organisational strategy. Understanding prioritisation, agile, scrum and design thinking. Best practices for working with designers, developers, sales, management and customer support.
With examples & cases from

Week 9, 10 & 11
Technology 101 for PMs
Common tech terminology. How internet works, technology stacks, databases, system design 101, overview of APIs, Mobile and Web technologies. Understanding cloud with AWS. Introduction to prototyping and wire framing tools such as Figma & Balsamiq.
Tools & Products covered

Week 12 & 13
Product Analytics
In-depth understanding of product analytics. How to choose the right metrics for your product and features. How to setup tracking tools. AARRR, HEART and North Star Metric frameworks. Cohort, User flows, segmentation, and funnel analysis to understand user behaviour and improving the product. Overview of analytics ecosystem. Using mixpanel and GA for analytics and making your PRDs more data driven.
Tools & Products covered

Week 14 and 15
Getting into a PM role
Mapping soft skills and hard skills required for Product roles to your experience. Creating a product portfolio and improved resume. Tips for moving from another role to product roles in same company. Tips for cracking PM interviews and finding the right company for yourself. Mock Interviews with mentors.
Tools
Design & Wireframing Tools
Figma, Whimsical & Draw.io
Product Execution Management Tools
Jira & Asana
Product Analytics Tools
Google Analytics 4, Mixpanel & SQL
Meet Your Instructors
A highly curated pool of senior product leaders who have more than 7 years of experience each, under their belt.
Our instructors have worked in senior product roles at companies like Linkedin, PayPal, Oracle, Meesho, PayTM, Walmart, INDmoney, Scaler etc.
Frequently Asked Questions:
Step 1:
Make sure you have read all the program details on this page.
Step 2:
Use
this link
to submit your details for the application.
Step 3:
After submission you'll get a link to schedule a call with our team members for further instructions.
Step 4:
Based on a screening round your candidature will be decided.
The fees of the complete program will be INR 40,000/- plus 18% GST or USD 700 (for international students)
This has to be paid in 2 instalments of 20,000/- each in two months (Rs 23,600/- inclusive of GST).

All the amounts paid can be refunded within 7 days of payments by reaching out to info@hellopm.co. If the student decides to not continue the program from anytime they do not need to pay the fees thereafter.
Yes, we offer a certificate of completion once you finish all assignments and score above benchmarks.
We have a dedicated module for "Cracking into PM roles". In this module you will learn about creating your resume, finding right product opportunities, portfolio creation, how to answer various product interview questions etc. We will also help you with mock interviews with experts.
As our premium community contains more than 200 members working in product roles in different companies, we can also provide you with job referral opportunities.
You will also become a part of our slack group where we keep on sharing Product Management Opportunities.
This support will continue after the program as well.
Yes, we have designed the program to make it suitable for full-time professionals. Sessions are conducted on weekends and can also be watched later through learning dashboard. Most of our first cohort students have done the program along with a full time job.
Yes you have to work harder than your normal week but isn't developing a strong product skillset worth the efforts?
You do not need to have any prior product or tech experience in order to enroll for the program. Apart from a strong desire to learn and willingness to be helpful to other around you, you should have a good internet connection to participate in the program. We will do a screening round to check for these abilities.
All the cohort members are eligble for following benefits after the program completion:
1. Access to course materials (Live lectures, ppts, cheatsheets, write-ups etc.) for this and any related program we conduct in future.
2. Access to community events and masterclasses conducted time to time by HelloPM and its partners.
3. Access to slack community.
4. Access to product job board.
5. Availability based access to mentors.
6. Access to office hours every week where you can interact with mentors.
The program will be delivered primarily through live lectures (two sessions of 2-hours each on weekends), pre-reads, some videos and assignments. All live lectures will be recorded and made available on learning dashboard.
We acknowledge that we can't accomodate everyone with the timing of our live Sessions. However, you will have access to all the recordings of the live lectures in your dashboard. There are many other opportunities to interact through other live events with our instructors and other fellow students.
Yes. All the lectures will be immediately recorded and uploaded on the LMS.
Yes. This course doesn't needs prior experience in product roles(although that can be really helpful), if you are a student or fresher who is willing to work hard to get into product management, you should join this course to save hours of time with structured learning and expert mentorship.
Yes. During the live classes the instructor will be available to take any of your questions related to the topic. Instructors are also available on our slack group to help you with your queries and mentorship.
There will two 2-hour live lessons every week and other sessions such as guest sessions, case study intensives, group discussions etc. All of these sessions are valuable, but you are not required to attend all of them. Every session will be recorded and will be made available in your dashboard, so that you can come back to them in future.
The peer support sessions are designed to allow members to learn from each other. We will have peer limelights to honor cohort members who have been most supportive to other peers.