Learn Modern Product Management
Intensive Program to Accelerate Your Career in Product Management.
🗓️ 25th Cohort Starts from 14th January
Apply Now
Schedule 1:1 Counselling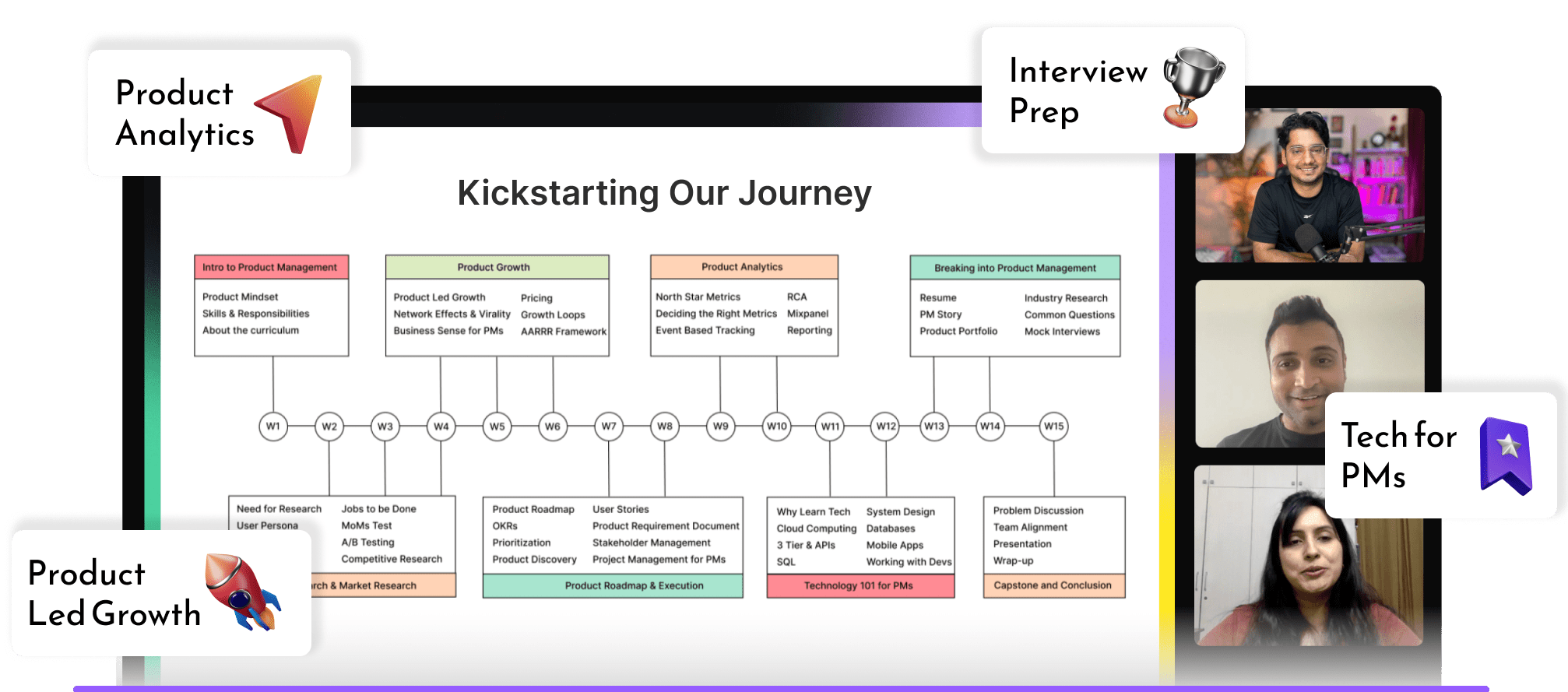 22 Cohorts
Running & Completed in the last 2 years.
700+ Alumni
Working in product roles at top tech companies.
16 LPA & 65 LPA
Average & Highest Salary respectively.
15 Weeks
Of live immersive hands-on training.
---
Our Alumni Work At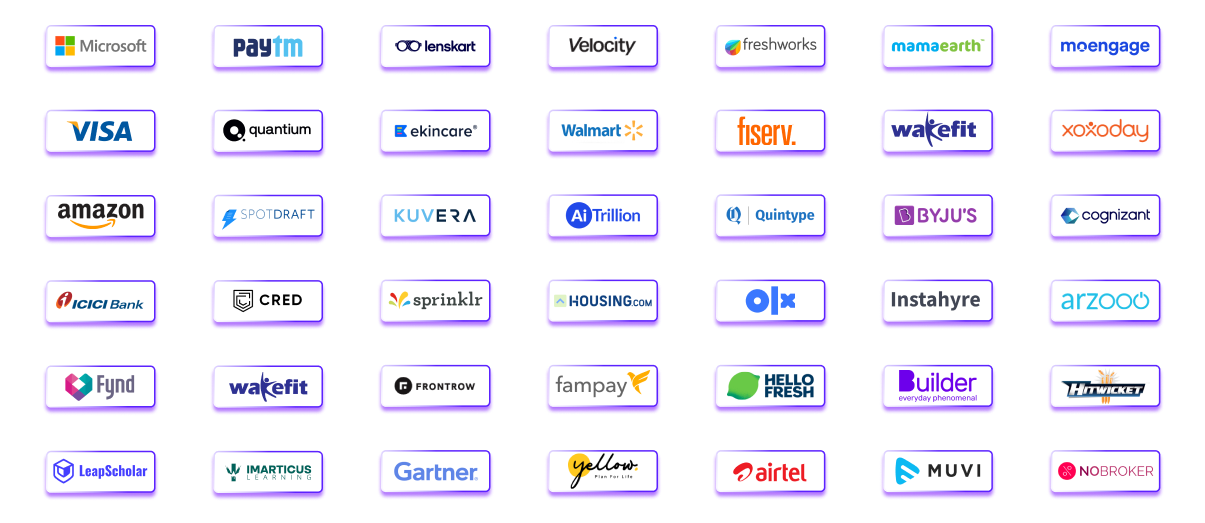 This Program is Best Suited For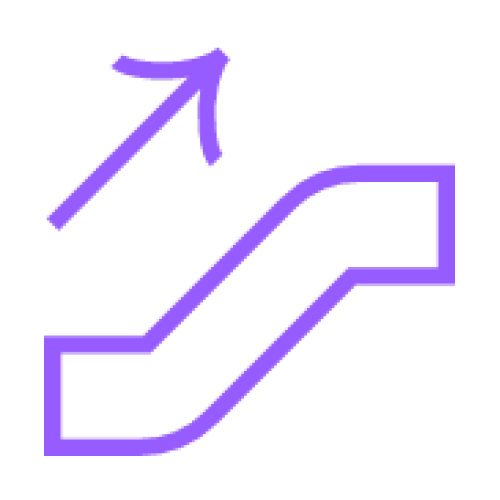 Working Professionals
who are product managers or looking to transition into product roles from sales, testing, marketing, support, operations, business analysts, software development, consulting, program and project management.
We have ample alumni stories of successful transitions.

Chandan
(cohort #2) transitioned from development (Commutatus) to product management (CRED)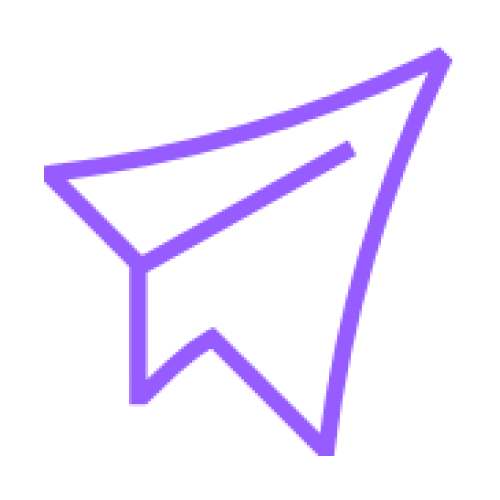 Entrepreneurs
looking to develop a product mindset for their own ventures & increases their chances of creating successful products. Get the process, mindset and support network for your success.
Entrepreneurs are often the first product managers in their startups.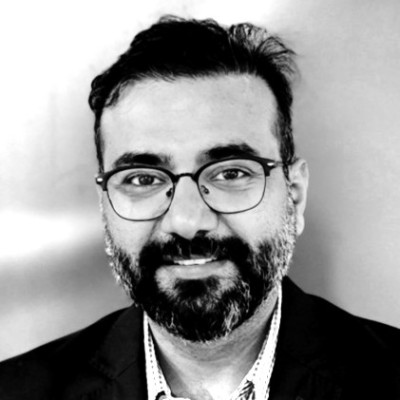 Shailesh
(cohort #7) founded Jumbaya & raised a seed round of $700K from AngelList.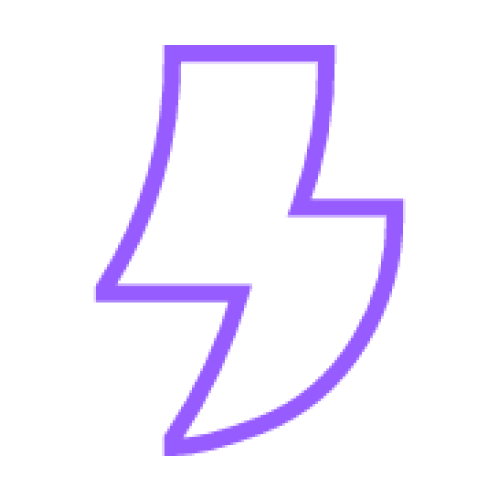 Product Managers
looking to supercharge their careers with right mentorship, support and structured knowledge of product management. Many of our alumni have transitioned from APM and PM roles to Sr PM, Group PM and Product Leadership roles at companies like Microsoft, Freshworks, TATA etc.

Abhishek
(cohort #2) transitioned from PM at NirogStreey to senior PM at WakeFit.
✨ Start your journey of becoming a top product manager
Apply Now →
---
Meet Our Alumni
Why Choose HelloPM?
9 Reasons That Make Us The Most Practical Program on Product Management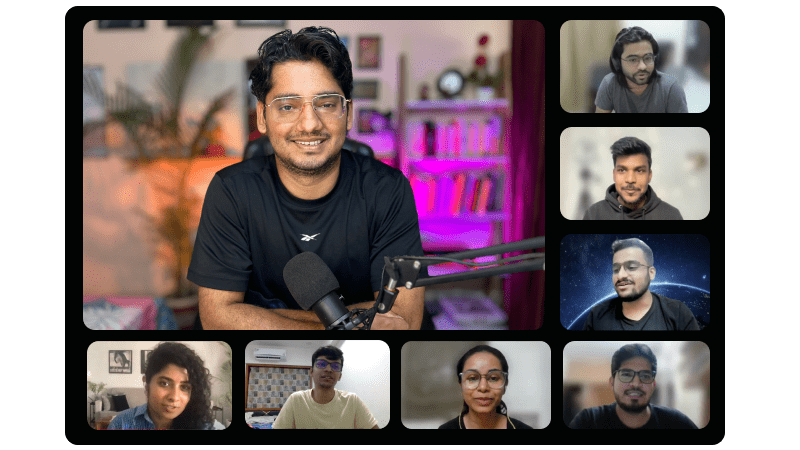 Live & Interactive Learning Sessions
100+ hours of content including 4 hour of live sessions over zoom every week with top product leaders. Ask your questions, discuss and interact directly with people who have been there and done that.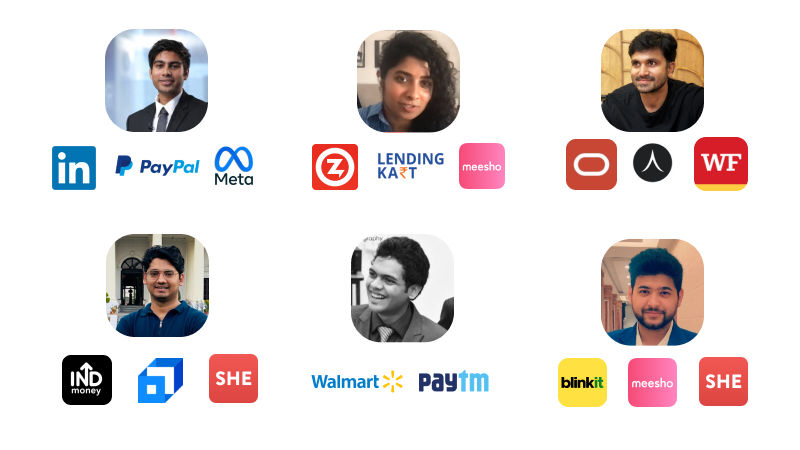 Learn From Real Product Managers & Leaders
Product Management can only be taught by people who have themselves done it. Learn from product people from companies like Linkedin, Google, Facebook, Walmart, Scaler, Microsoft etc.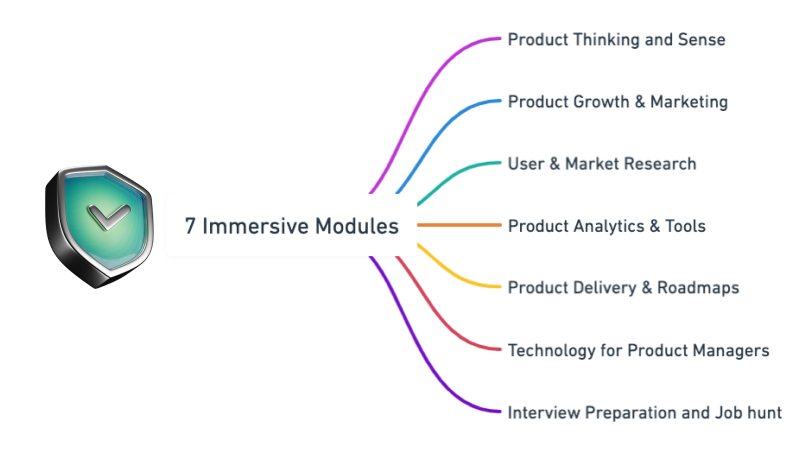 Complete In-depth Curriculum
We have the most exhaustive and detailed curriculum on product management. Period. Our well thought through curriculum is taken from real job descriptions and make you industry ready.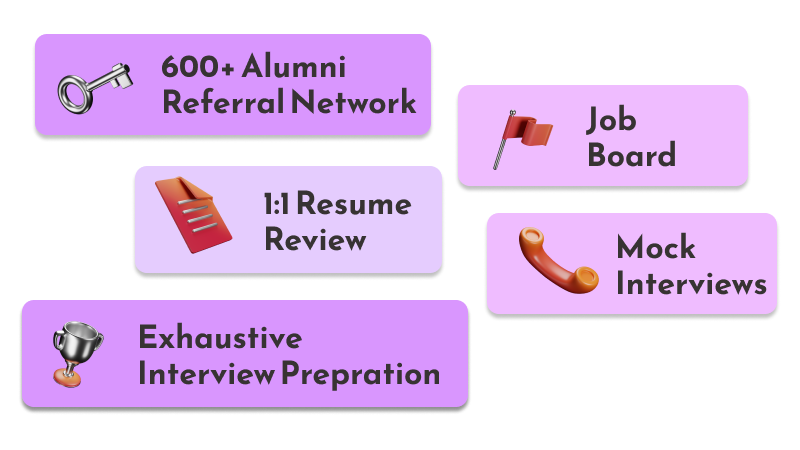 Interview Preparation & Career Support
You will get access to 1:1 resume review, an exhaustive interview prepration module with live sessions and mock interviews. We have a referral network of 600+ alumnis to help you find an opportunity.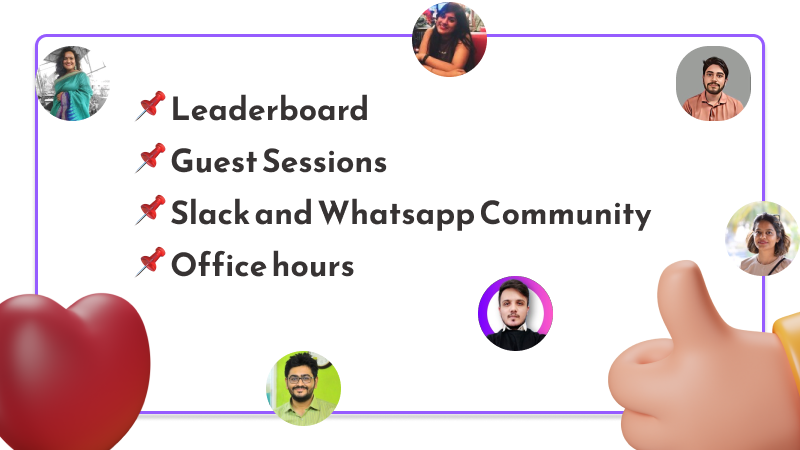 Premium Community & Support Network
Community is the core of this program. Peer learning through live sessions, group assignments and break-out room activities. You'll also interact will alumnis through office hours, case study and product contests.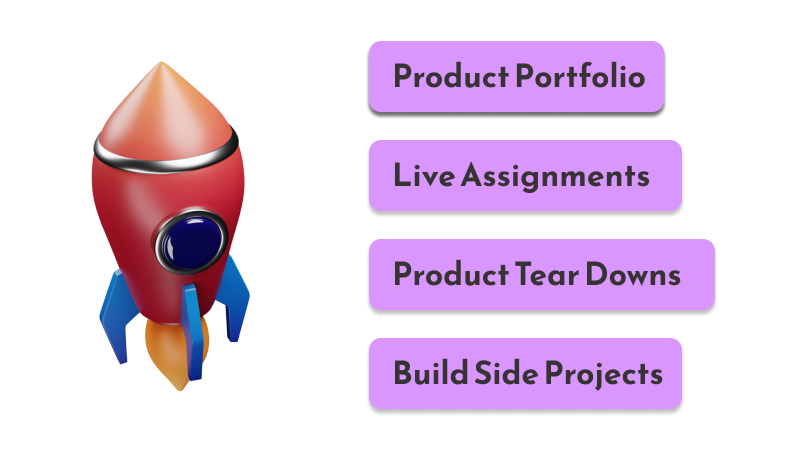 Hands-on & Practical - Learning by Doing
The best way to learn is to learn by doing. 50+ Assignments, case studies and real life examples help you learn practically by getting your hands ditrty. We will help you create your own product portfolio.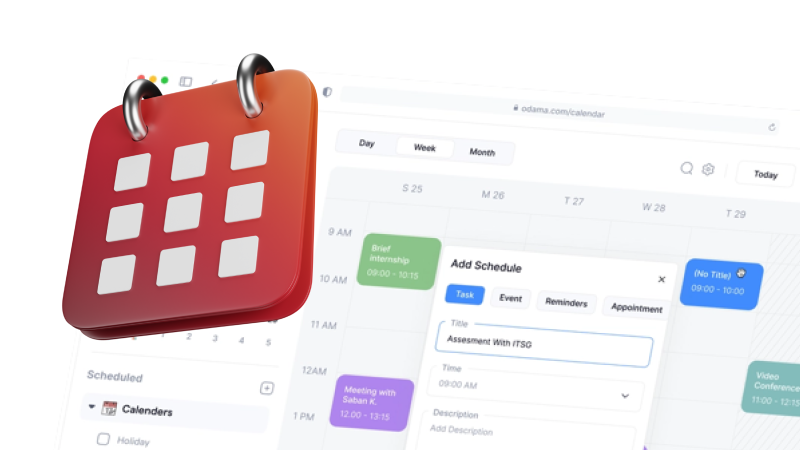 Flexible Schedule & Free Transfers
Weekends sessions to accomodate working professionals. The recordings & resources will be available on the same day. You can access recordings from the past cohorts to fast track your completion. Transfer from one cohort to another is free.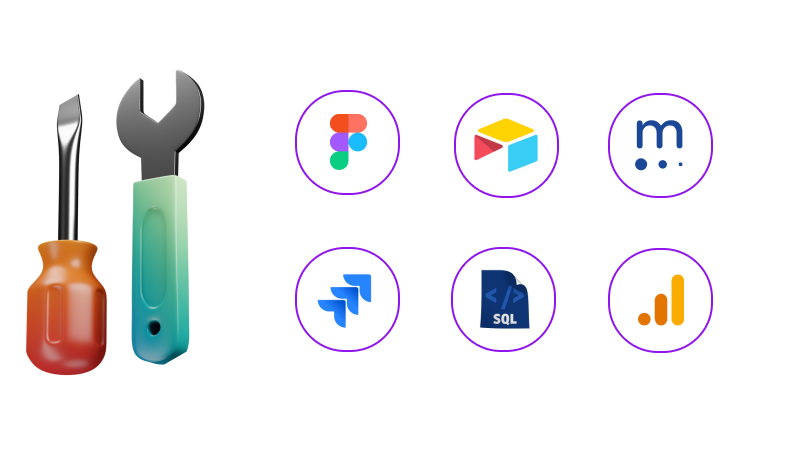 In-depth Understanding of Tools
Hands-on learning of all the top tools like Mixpanel, Jira, Google analytics, Figma, Whimsical, Retool and technologies like Postman and SQL. We will provide you access to these tools for free through our partner or freemium program.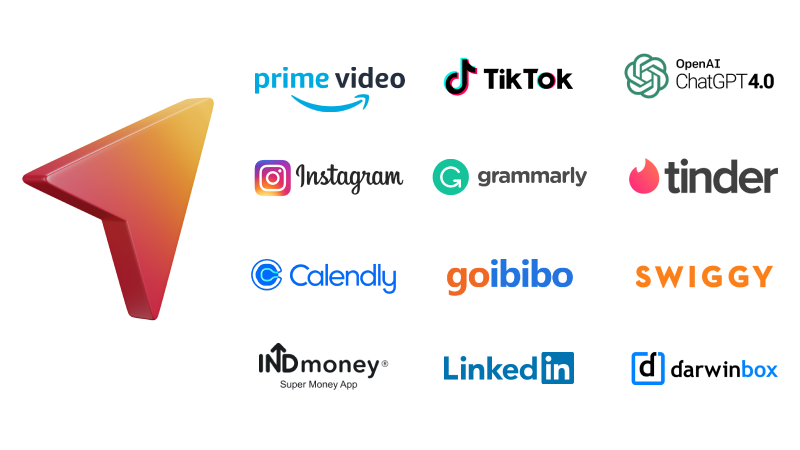 Practical Case Study Based Learning
We use Harvard's case study based approach to teach all the important concepts. All the sessions are power packed with case studies to understand the real life application of all product management framework and concepts.
✨ Accelerate your product career with the most exhaustive & hands-on program
Apply Now →
Curriculum
🔥 The most exhaustive & practical curriculum on product management. Period.
15 weeks of intensive learning in product management and growth. Learn the art of building and growing products that your users will love.
Week 1 and 2
Introduction to Product Management & Product Thinking
Learn about responsibilities and workflow for product roles in B2B v/s B2C, Startups v/s Enterprises.
Different types of Product Manager roles and Common myths about them.
Must have hard skills and soft skills for product management roles, how to learn and practice these.
The 6D product management process.
Product thinking and how to develop product sense.
Problem space v/s Solutions space.
How to suggest improvements to any product.
Case studies and examples from

Week 3, 4 and 5
User & Market Research - Product Discovery
Learn how to discover, validate and articulate impactful user problems.
Finding product opportunities with surveys, user interviews and secondary research.
Converting the research into artifacts such as user personas, customer journey maps, and empathy maps.
Jobs to be done (JTBD), 5 Why, Form v/s Functions.
Minimum Viable Product
Frameworks to learn about user needs and required innovation.
Competitive research & market analysis.
Porter's 5 forces to create a differentiated proposition.
Tools & Product covered

Case studies and examples from

Week 5, 6 and 7
Growth, User Acquisition & Product Marketing
Product Led Growth.
How to solve growth and retention problems with product mindset.
Growth loops and Growth flywheels.
Customer Journey with AARRR (Pirate Framework).
Acquisition: Network Effects, Virality & Referrals.
Activation, Onboarding and creating Aha moments.
Building Retention in product with various business models.
Creating habit forming products with BJ Foggs Model.
Pricing strategies and business models.
Composition of Growth Teams.
Case studies and examples from

Week 8 and 9
Product Roadmap & Execution
Product Strategy and Vision.
How to build your product roadmap.
OKRs (Objective and Key Results).
Prioritization with RICE and KANO.
Visual example of roadmap.
Product discovery and delivery.
Design thinking.
Agile, Scrum, and User Stories.
Release and analysis.
Stakeholder Management - Working with designers, developers, QAs, Sales, Marketing, Category Managers, Customer Support & Management/Senior Leadership.
Case studies and examples from

Tools & Product covered

Week 10 and 11
Product Analytics
Important product metrics for various business types.
North star metrics.
How to decide the right metrics for any product & feature.
Event based tracking: User, Events, and Properties.
Optimizing User Flows.
Funnels.
Segmentation.
Cohort Analysis.
A/B Testing & Experimentation.
Actionable insights on improving your product with analytics.
Case studies and examples from

Tools & Products covered

Week 12 and 13
Technology 101 for PMs
Need of Technology for Product Managers.
How internet works.
3 Layer Architecture: Front-end, Databases & Backend.
Popular Tech Stacks: Google, Twitter, & Product Hunt.
Storage and Databases.
How to use SQL as a Product Manager.
APIs and Webhooks.
System Design of Popular Apps: Instagram & Youtube.
Technology behind Mobile Apps.
Git, GitHub and Deployment Management.
Introduction to Cloud Services & AI/ML product management.
Working well with Engineers.
Case studies and examples from

Tools & Products covered

Week 14 and 15
Getting into a PM role
How to break into Product Management from different backgrounds.
Crafting the perfect resume.
Optimizing Linkedin profile for Networking.
Common interview questions.
Product design questions.
Guesttimate questions.
Metrics questions.
Behavioral questions.
Product strategy questions.
Strategies for take home product assignment case studies.
Creating a product portfolio.
Negotiating job offers.
Activities
Product portfolio creation.
Expert resume review.
Interview practice on portal.
Mock interviews.
Tools
Design & Wireframing Tools
Figma, Whimsical & Draw.io
Product Execution Management Tools
Jira & Asana
Product Analytics Tools
Google Analytics 4, Mixpanel & SQL
Meet Your Instructors & Mentors
A highly curated pool of senior product leaders. Each of our mentors has atleast 7 years of experience.
Guest Mentors
Top product leaders, and entrepreneurs who share their journeys and challenges with community members in live sessions.
✨ Learn from product leaders, who have been there and done that.
Apply Now →
Invest in Your Product Management Career
You get access to:
70+ hours of live learning and mentorship from experts.
Exclusive access to community expert sessions and workshops.
Access to curated job board & 700+ alumni network.
Portfolio creation with over 5 projects and 1 capstone.
Mock Interviews, Resume Review, and Linkedin Profile Review.
Exhaustive Interview Prepration Module with question bank.
Hands-on learning of 6 product management tools.
2 years access to weekly live office hours & all course contents.
Course Fees
15 Week Flagship Program
₹ 40,000/-
+ Taxes (GST @18%)
₹ 7200/-
Total
₹ 47200/-
✨ Pay as low as ₹ 5250 per month with no cost EMI option.

---

For International Candidates
(Inclusive of taxes)
USD 700
Apply Now →
Get reimbursed from your employer
Frequently Asked Questions:
Step 1:
Make sure you have read all the program details on this page.
Step 2:
Use
this link
to submit your details for the application.
Step 3:
You can now complete the payment or you can schedule a 1:1 counselling call with one of our mentors.
We enrol about 50 learners in a cohort.
The fees of the complete program will be
INR 40,000/-
plus 18% GST or USD 700 (for international students)
The fees can be paid in one of the three ways:
No cost EMIs options for upto 9 months (About Rs 5250 per month).
2 instalments of Rs 20000/- in two months (Rs 23600/- inclusive of GST)
Lumpsum amount of Rs 40,000 + 18% GST = 47200/-
Refund Policy: All the amount paid can be refunded within 10 days of commencement of the cohort by reaching out to info@hellopm.co.
Live sessions will start from 14th January (Kick start session from 8 PM IST).
Timing for regular live sessions will be 10:00 AM to 12:00 PM (Indian Standard Time), every Saturday and Sunday.
Yes. For people who are more aggresive about their transition and learning, we can open the access for all the recordings of our past cohorts to help them fast track their learnings.
Yes, we offer a certificate of completion once you finish all assignments and score above benchmarks.
We have a dedicated module for "Cracking into PM roles". In this module you will get
Tips for Creating and optimizing your resume
Sessions on product portolio creation
Understanding on How to answer various product management interview questions
Mock interviews
As our premium community contains more than 600 members working in product roles in different companies, we can also provide you with job referral opportunities.
You will also become a part of our slack group where we keep on sharing Product Management Opportunities.
Mentorship help and support will also continue after the program.
Yes, we have designed the program to make it suitable for full-time professionals. Sessions are conducted on weekends and can also be watched later through learning dashboard.
Yes you have to work harder than your normal week but isn't developing a strong product skillset worth the efforts?
You do not need to have any prior product or tech experience in order to enroll for the program. Apart from a strong desire to learn and willingness to be helpful to other around you, you should have a good internet connection to participate in the program.
All the cohort members are eligble for following benefits after the program completion:
1. Access to course materials (Live lectures, ppts, cheatsheets, write-ups etc.) for this and any related program we conduct in future.
2. Access to community events and masterclasses conducted time to time by HelloPM and its partners.
3. Access to slack community.
4. Access to product job board.
5. Availability based access to mentors.
6. Access to office hours every week where you can interact with mentors.
The program will be delivered primarily through live lectures (two sessions of 2-hours each on weekends), pre-reads, some videos and assignments. All live lectures will be recorded and made available on learning dashboard.
You will have access to all the recordings of the live lectures in your dashboard on the same day. There are many other opportunities to interact through other live events with our instructors and other fellow students.
You can bring all your questions to office hours which are conducted from 9 PM (IST) every Thursday.
Yes. This course doesn't needs prior experience in product roles(although that can be really helpful), if you are a student or fresher who is willing to work hard to get into product management, you should join this course to save hours of time with structured learning and expert mentorship.
Yes. During the live classes the instructor will be available to take any of your questions related to the topic. Instructors are also available on our slack group and office hours to help you with your queries and provide mentorship.
This is an outcome oriented, immersive program and requires you to commit about 10-12 hours every week.
4 Hours for attending the live sessions and additional 5-8 hours to complete reading material and assignments.
This is a proven outcome driven program. Almost all of our past candidates were able to transition, many of them have even recieved multiple offers from companies.
You can find our alumni here
on this page
, we have also included their linkedin profile to help you connect with them directly.