Hello Product Enthusiasts 👋🏽,
This article contains the summary and recordings of our recent Product Management Masterclass conducted on 29th & 30th July.
We are sharing this for 1500+ folks who have registered for the session but were not able to attend the complete session.
Agenda:
In the session, we discussed:
What is product management?
A simple prioritization framework.
Skills required to become a Product Manager.
Salaries and Career Path.
How can you become a product manager coming from any background?
Audience QnA
Watch the full recording here 👇🏽 (We've intially decided to not share recordings, but had to change our mind after receiving so many messages from you folks 😆!)
What do Product Managers Do?
You know that it's really hard to explain what a PM does.
Here is our attempt to simplify this using the 3D framework:
Discover, Define, Deliver.
1/ Discovery
In the discovery phase, a product manager understands the business goals (revenue, retention, growth, etc.), and identifies the user problems they can solve to achieve these business outcomes.
Here a PM has to talk to multiple users, do market research, talk to customer-facing teams (sales, marketing, support, etc.), and do a lot of data analysis to come up with opportunities/user problems to create a new feature, or product or improve the existing experience. The improvement should be related to the initial business goals.
This is the phase that sets the direction right, and it's important to spend adequate time here and avoid jumping to top-of-the-mind solutions. This is the phase to go creative and get as many ideas as possible.
Tools used in this phase are Mixpanel/Google Analytics (for analytics), Tally/Google Forms (for conducting surveys), and Miro/FigJam for brainstorming.
The discovery phase is the creative and strategic phase and sets the direction of your product lifecycle.
2/ Definition
This is the phase to put your practical hat on. You will prioritize the right solution, set the right success metrics, and create clarity for your team by creating product requirement documents (PRD), and user stories.
No product team has unlimited resources to work with, hence you need to prioritize really well (Impact v/s Effort is a common tool to prioritize, you can also use RICE, KANO, MOSCOW, etc.).
The aim of this phase is to become ready for execution and give the utmost clarity to the team.
Tools used in this phase are Figma/Whimsical for wireframing & quick prototyping, and tools like Google Docs/Notion/Confluence for creating documents like PRDs, & concept docs.
Here is a PRD template you can refer to.
I've talked more about prioritization a little later in this article.
3/ Delivery
This is the phase where the thoughts are converted into tangible products.
The development & design teams execute, they design/code the product and make sure it is in the best possible shape as per the user requirements.
The testing team tests the product.
The marketing & sales team works on the GTM (Go to market) and takes the product out for the users.
The aim of this phase is to deliver value to the hands of the users & grow the usage and metrics from there on.
Experiments & measurements are also done in this phase.
Tools used in this phase are Jira/Asana for task management, Google Analytics/Mixpanel for analytics, and Clevetap/WebEngage to lead the go-to-market strategy.

Now the cycle again repeats and new issues/optimizations are discovered in the products and the team keeps on working on delivering value to the users and business.
Although every PM's job would be different, this 3D framework covers a lot of commonalities and help you understand product management at a deeper level.
How to do Prioritization as a Product Manager.
Product managers face a problem of plenty.
You have so many things to do, many problems, many solutions, and many suggestions, but are always limited by time, bandwidth, and resources.
In situations like these, you need to obsessively prioritize and filter ideas before you put them in the backlog.
But how do you prioritize?
The simplest yet most powerful framework that most product managers rely on is the Impact v/s Effort Framework.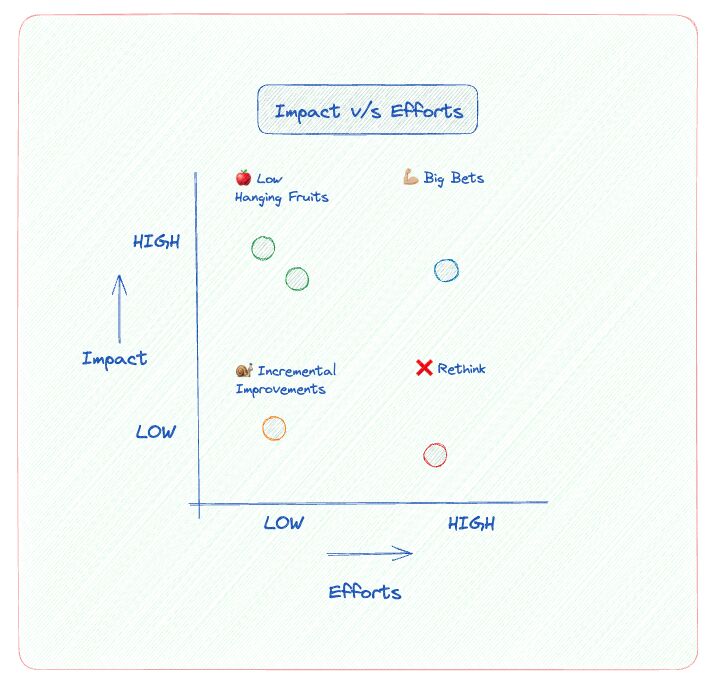 The impact is determined by: potential revenue estimate, customer value, alignment with company goals, demand from the market, or any other relevant metrics that align with product goals.
Impact estimation is mostly the responsibility of the product manager.
The effort is determined by: development complexity, engineering efforts, the time required, operations complexity, etc.
Effort estimation is mostly done by the delivery teams like engineers, design, ops, etc.
This is a collaborative exercise.
The next step is to visualize this through an impact v/s effort matrix.
Provided that the estimations are done correctly, the low efforts & high impact items are picked at the earliest, and other things are prioritized in a logical order.
📌 3 Tips to take your prioritization game to the next level:
1. Consider tradeoffs at every step: Some high efforts ideas could be of high strategic importance, similarly some low-impact ideas could be critical for customer experience. Understand the situation from all angles.
2. Look out for red flags: All ideas look high impact, or the backlog is completely filled with low effort low impact ideas. This indicates either the PM is not competent at impact estimation or is not considering enough ideas during product discovery before deciding on the best one.
3. Validate high-effort ideas by first converting them into low efforts experiments: For example: Rather than converting your whole website into all Indian languages, try to convert the most popular pages into 3 popular languages, observe the results and then decide to roll back or go all in.
📌 Other frameworks for prioritization:
There will be times when you'll need more detailed frameworks to prioritize, some of the other helpful frameworks are:
1. KANO: Puts customer satisfaction at the center and distinguishes between basic expectations, performance attributes, and delighters.
2. MOSCOW: categorizes requirements into four priority levels: Must have, Should have, Could have, and Won't have.
3. RICE: adds to more dimensions of Reach and Confidence to make Impact v/s Effort more reliable and exhaustive.
✨ Prioritization is a supercritical and useful skill for product managers, during their work, stakeholder management, and also during interviews.
Skills required to become a Product Manager
To be able to deliver your responsibilities as a product manager, you need to possess/develop these skills.
Understand that all of these skills can be learned and improved with time.
User empathy: Understand the users well. Spend time with them, look at analytics, and read what they read. Talk to sales, marketing, and support often.
Data Fluency: Be able to find the right data and convert it into insights.
Problem-Solving: Identifying the creative and impactful solutions to the problems faced by your team, your customers, and your partners.
Product execution: Define metrics, create PRDs, create user stories, and do anything that's needed to deliver the right outcomes to the users and to the business.
Business sense: Able to find what will move the business forward. Have the right alignment between company and product strategy.
Prioritization: Ability to choose the most impact piece of work at any given time. You are running against time, amidst a crunch of resources and changing user needs. Make sure you are working on the best piece possible.
Stakeholder Management Your team's success is your success. PM is majorly a communications job, you need to be able to communicate well. PRDs, user stories, presentations, wireframes, sprints are a few communication tools available to you as a PM. As a PM you might not have authority over any of the execution team members. You need to influence them by persuasion. You will be highly ineffective as a PM if you can't persuade your team in the right direction.
Ability to learn quickly (Bonus): Every product role is very dynamic, somewhere you will have to possess relevant tech skills to take the product ahead, while at some places you need to have a good design understanding to contribute well. As no one can know all of these skills beforehand, you need to develop the ability to learn and unlearn quickly. See Feynman technique of learning well.
How to Become a Product Manager
Once you have acquired the skills to become a product manager, you can try any of the below strategies to finally get into the job role of a product manager.
However, before implementing these, you need to make sure you have a solid understanding of Product Management. Not sure? We can help.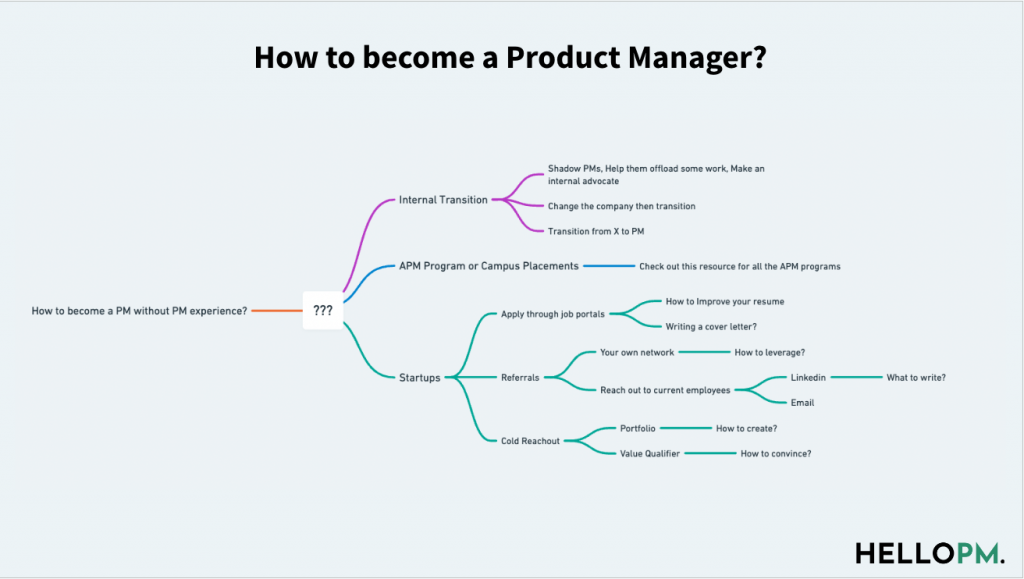 Internal transition: Making the move inside your company is your best first bet. This image shows the steps you can take.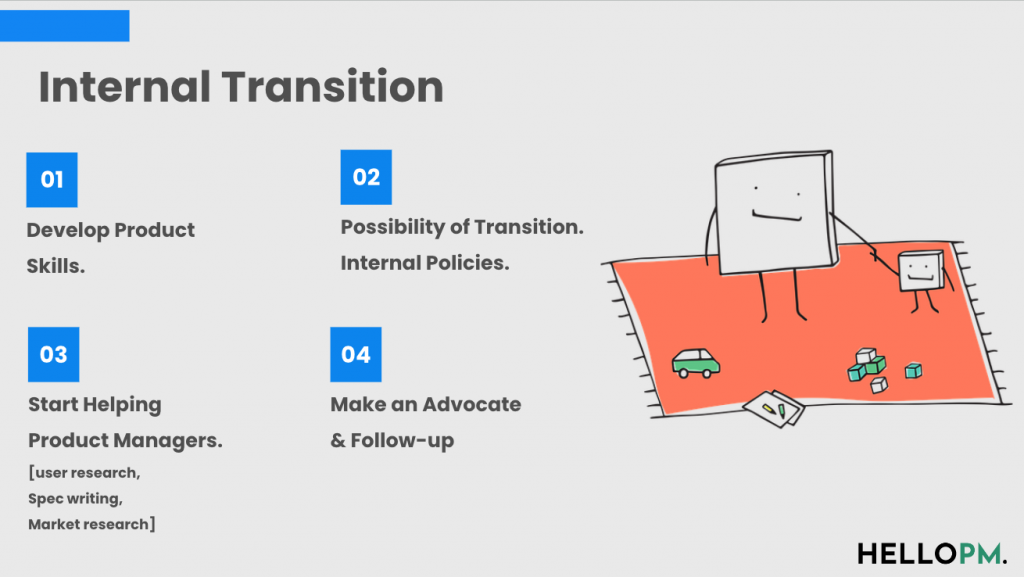 At HelloPM we have witnessed many of our students making successful internal transitions. Check the recording above for real stories.
APM programs and Campus placements:
Freshers' APM program and Campus placements are great places to grab your first PM role if you are coming from a reputed college. Here is how to make the most of this opportunity.
Optimize your Resume to get screened: Tips here.
Do Company research (Market, Competition, Product & User Sentiments).
Prepare well for the Interview. Interview Preparation Guide for your next Product Management Interview.
Connect with previously successful candidates. Use LinkedIn to search for people with specific job designation (Associate Product Manager, Product Manager) and filter them by company name,
Working at growth stage companies by building proof of work and networking.
This is the most effective way, even if you are coming from non-PM background like sales, marketing, development, business analyst or even a student. This has worked for many of our students in the past.
If I was looking to start from scratch in product management today(no connections, no background, no decent alma mater), here is what I would do:
Step 0: Understand why I want to become a product manager.
Absolutely essential step. This "Why" will keep you moving during the hard times.
Step 1: Make my product fundamentals strong:
I will learn about: Product Sense, User psychology, Business Sense, Analytics, and Essential Technologies and Talk to multiple product managers to build strong fundamentals. (Here are 50+ resources to help you: https://lnkd.in/dBudFNxj)
Step 2: Now I will choose a list of 5-8 companies, these companies would be startups or mid-sized companies so that I get to learn as much as I can.
These companies would be operation is related or one domain (ideally from the one I have experience in).
(You can use YourStory Media, Inc42 Media, YCombinators startup directory to pick companies: https://lnkd.in/dWx53cdW)
Step 3: For each company, I will imagine that I have already become a PM there.
Now what would I do in the first 6 months?
While the answer would depend on your learnings & company context, consider these things:
1. Identify opportunities for product improvement.
2. Categorize the users of the product and find their problems.
3. Brainstorm some solutions to capture the opportunities & solve user problems.
Here is some more help 👇🏽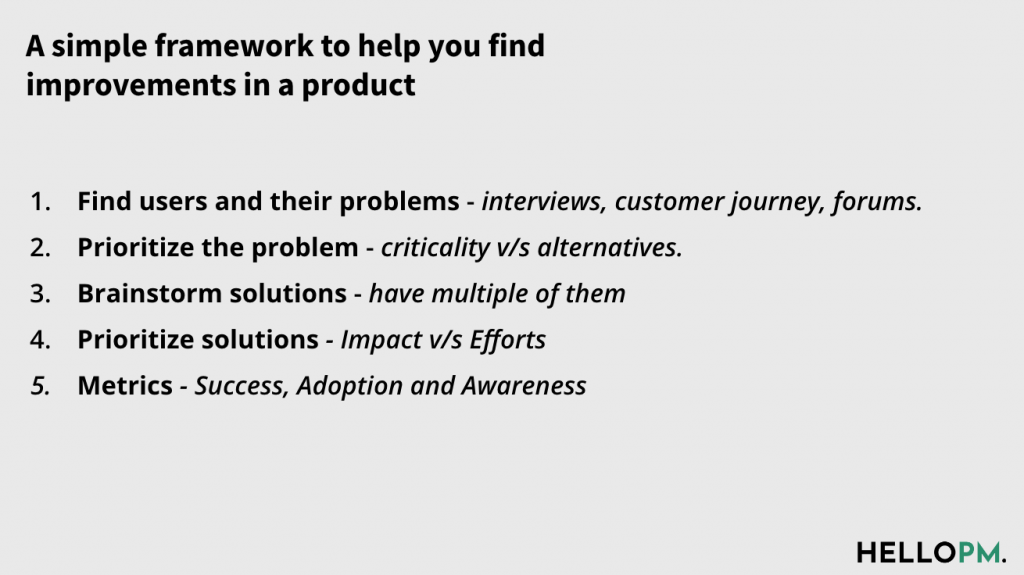 (40+ cases here: https://lnkd.in/dPE8847B)
Articulate all of this and put it together in a slide/notion doc.
Step 4: Now I will send this document to decision-makers in the company like founders, Senior PMs, Hiring Managers, etc. (use a tool like EasyLeadz, RocketReach etc.).
Step 5: Follow-up atleast three times before calling it quit (People are genuinely busy!).
Step 6: Iterate the same process for other companies.
Prepare well for the interview: Use the interview preparation guide.
This process works because:
1. Creating something for the company, compels you to learn product management well and identify your gaps quickly.
2. Employers are more likely to see your work about their own company rather than a random portfolio/case study or resume without any strong background.
3. It showcases your passion for the company/industry/product. You have shown ownership by actually doing work and not entirely depending on your resume to work for you.
Drawbacks of this process:
1. Company selection could be hard: Make sure you select the company you genuinely are interested in, ideally from the same industry, you've been working in, and are startups to increase your chances.
2. It takes time and patience: Even after doing so much work, some companies might never get back to you. However, the conversion rates would be better than just submitting your resume and you'll become better with each and every outreach.
Ready to take the next step?
At HelloPM, we can help you build a solid product mindset.
Our carefully curated and ⤴Well-rounded curriculum is proven to help people excel in product management.
You'll learn live from ⤴Top mentors who are real-life product managers, working at top companies and have delivered 90+ NPS scores consistently in every live session.
Check out all the details about the program from here 👇🏽 (next batch starts this Sunday)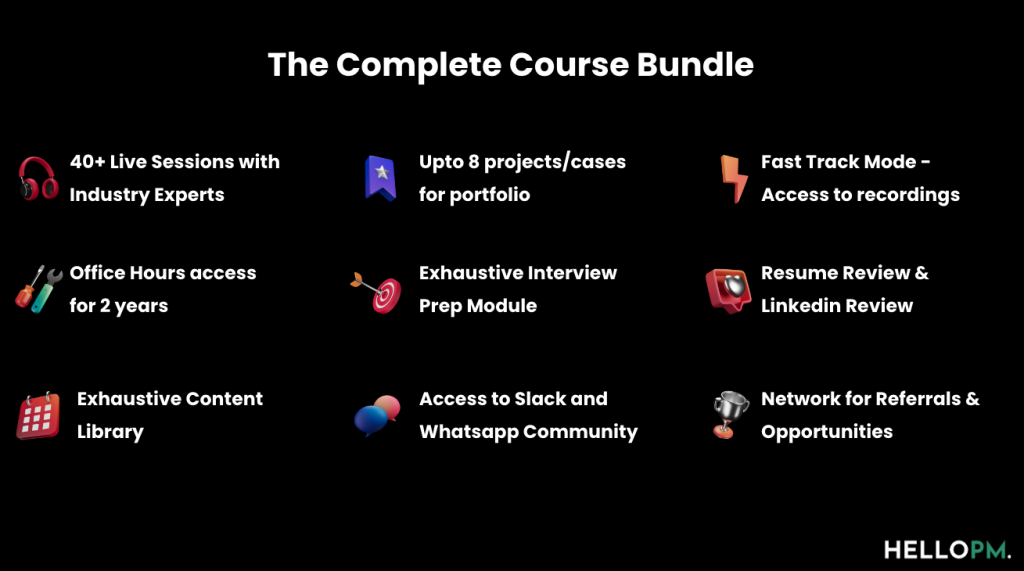 Best of luck for your product management journey!
Questions? Reach out at info@hellopm.co