Learn Modern Product Management. Live from Experts.
4 month intensive live program to accelerate your career in product management.
Apply Now →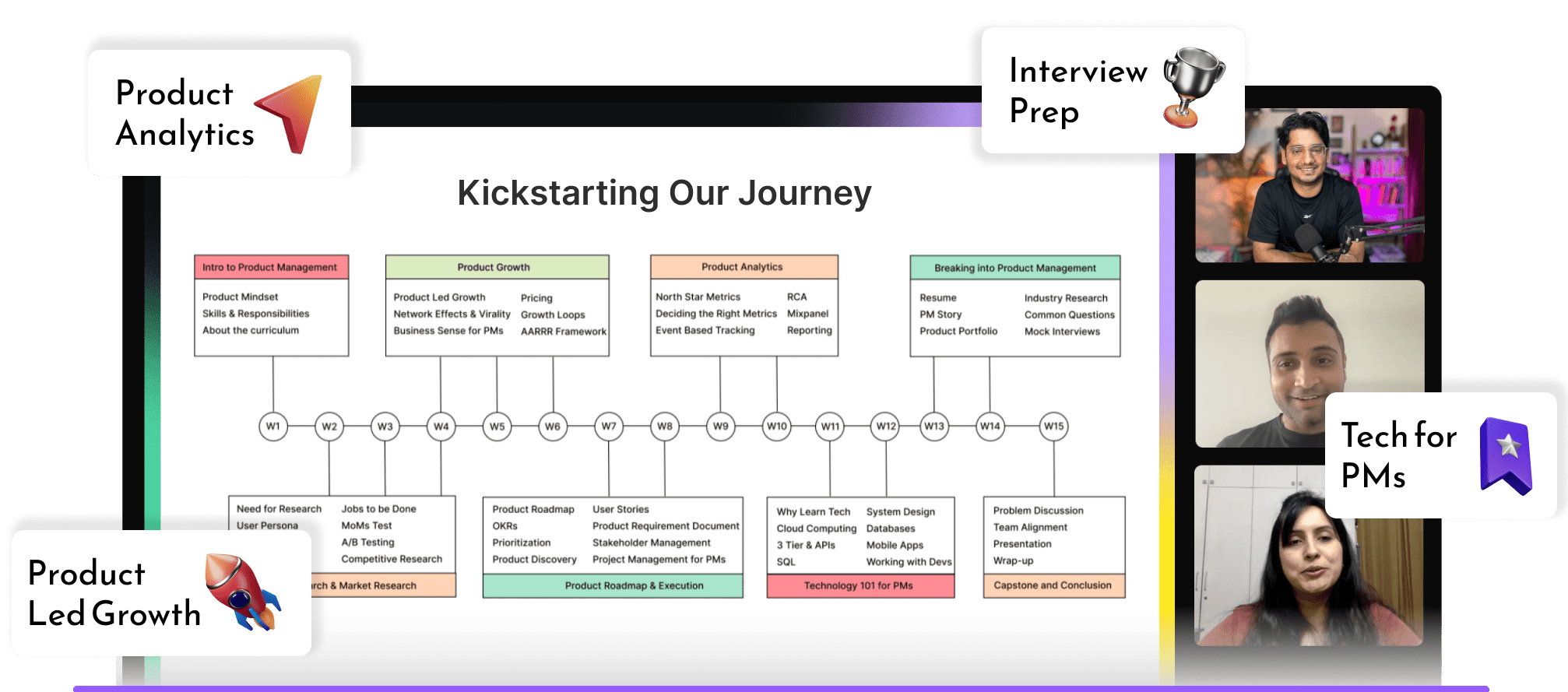 Our Alumni Works At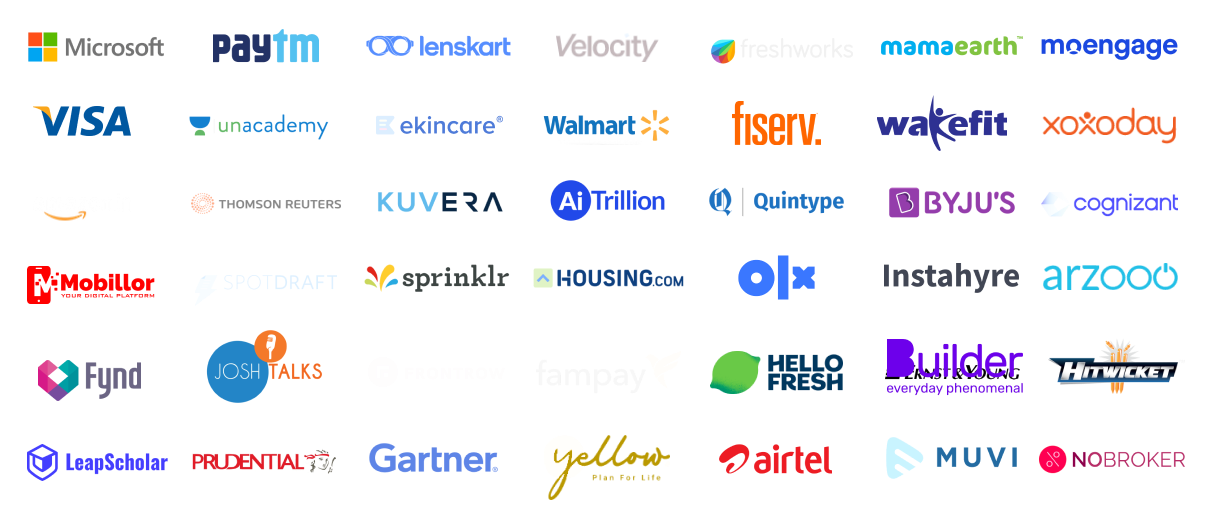 Your Gateway to a Great PM Career
1. Most Exhaustive Curriculum 2. Case Study Based Learning 3. 1:1 Mentorship 4. Post Completion Support 5. Placement Assistance 6. Create Your Portfolio 7. Product Contests 8. Guest Sessions 9. Exhaustive Interview Preparation 10. Content Bank 11. 45+ live sessions 12. Office Hours 13. Resume and Linkedin Profile Optimization 14. Assignments 15. Peer Learning - Community
The Most Exhaustive Curriculum on Product Management. Period.
15 weeks of intensive learning in product management and growth. Learn the art of building and growing products that your users will love.
Week 1
Introduction to Product Management & Product Thinking
Learn about responsibilities and workflow for product roles in B2B v/s B2C, Startups v/s Enterprises.
Different types of Product Manager roles and Common myths about them.
Must have hard skills and soft skills for product management roles, how to learn and practice these.
The 6D product management process.
Product thinking and how to develop product sense.
Problem space v/s Solutions space.
How to suggest improvements to any product.
Case studies and examples from

Week 2 and 3
User & Market Research - Product Discovery
Learn how to discover, validate and articulate impactful user problems.
Finding product opportunities with surveys, user interviews and secondary research.
Converting the research into artifacts such as user personas, customer journey maps, and empathy maps.
Jobs to be done (JTBD), 5 Why, Form v/s Functions.
Hypothesis Testing.
A/B Testing & Experimentation.
Minimum Viable Product
Frameworks to learn about user needs and required innovation.
Competitive research & market analysis.
Porter's 5 forces to create a differentiated proposition.
Tools & Product covered

Case studies and examples from

Week 4, 5 & 6
Growth, User Acquisition & Product Marketing
Product Led Growth.
How to solve growth and retention problems with product mindset.
Growth loops and Growth flywheels.
Customer Journey with AARRR (Pirate Framework).
Acquisition: Network Effects, Virality & Referrals.
Activation, Onboarding and creating Aha moments.
Building Retention in product with various business models.
Creating habit forming products with BJ Fogg's Model.
Pricing strategies and business models.
Composition of Growth Teams.
Case studies and examples from

Week 6, 7 & 8
Product Roadmap & Execution
Product Strategy and Vision.
How to build your product roadmap.
OKRs (Objective and Key Results).
Prioritization with RICE and KANO.
Visual example of roadmap.
Product discovery and delivery.
Design thinking.
Agile, Scrum, and User Stories.
Release and analysis.
Stakeholder Management - Working with designers, developers, QAs, Sales, Marketing, Category Managers, Customer Support & Management/Senior Leadership.
Case studies and examples from

Tools & Product covered

Week 9, 10 & 11
Technology 101 for PMs
Need of Technology for Product Managers.
How internet works.
3 Layer Architecture: Front-end, Databases & Backend.
Popular Tech Stacks: Google, Twitter, & Product Hunt.
Storage and Databases.
How to use SQL as a Product Manager.
APIs and Webhooks.
System Design of Popular Apps: Instagram & Youtube.
Technology behind Mobile Apps.
Git, GitHub and Deployment Management.
Introduction to Cloud Services & AI/ML product management.
Working well with Engineers.
Case studies and examples from

Tools & Products covered

Week 12 & 13
Product Analytics
Important product metrics for various business types.
North star metrics.
How to decide the right metrics for any product & feature.
Event based tracking: User, Events, and Properties.
Optimizing User Flows.
Funnels.
Segmentation.
Cohort Analysis.
Actionable insights on improving your product with analytics.
Case studies and examples from

Tools & Products covered

Week 14 and 15
Getting into a PM role
How to break into Product Management from different backgrounds.
Crafting the perfect resume.
Optimizing Linkedin profile for Networking.
Common interview questions.
Product design questions.
Guesttimate questions.
Metrics questions.
Behavioral questions.
Product strategy questions.
Strategies for take home product assignment case studies.
Creating a product portfolio.
Negotiating job offers.
Activities
Product portfolio creation.
Expert resume review.
Interview practice on portal.
Mock interviews.
Tools
Design & Wireframing Tools
Figma, Whimsical & Draw.io
Product Execution Management Tools
Jira & Asana
Product Analytics Tools
Google Analytics 4, Mixpanel & SQL